Nitro of The Month Contest!
​
Congratulations
schnitzerz4
fo
r winning March's NOTM Contest!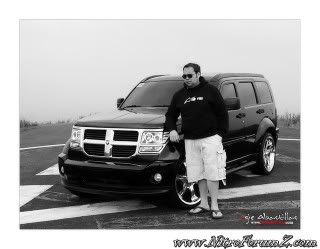 ​

and now a few words from the man of the Month!!


Nitro of the Month? WOW! This is so cool!!! First I want to say "Thank you!" to all the NitroForumZ members who voted for me.
Second: thanks so much for helping me and answering all my queries regarding my Nitro :smileup: You guys Rocks! I love posting here, coz here it feels like home :smileup:
anyway here are some stories that i want to share...
Coming from a big SUV (Ford Expedition) i'd say the Nitro is much better, well for me (the size, the gas consumption and the ability to drive on small roads) thats a LOT! i mean a LOT here in my country hahaha.
Okay the Nitro Landed here last year (2008) and the first time i saw some units on the roads makes me say WOW! i want one hahahaha so we went to the dealership the next day and saw one Sunburst Orange sitting on the showroom so i ask an agent if he can give me a black one and he said he will call me. Months of waiting i receive a call from my agent and told me they have a Brilliant Black 3.7L 4x4 already, yey! so i decided to take the plunge and get one myself and started to put things up like Wheels, Nerf Bars, doorpins, rear deflector, Super black tints, HID's, Blinkers, Eibach Lowering springs, K&N CAI and the most mods im proud of is my CCFL Halo HIDs can you believe i swap my Headlights OLD front glass to my new Halo Headlights just to have a clear side? LOL but that was fun LOL everyone here's looking at my headlights and im sure they're wondering what kinda ride is that hahahahaha :chuckle: oh and i debadge the nitro so when i pass by them they wont know whats my ride either LOL :chuckle:
The only thing i hate is the dealership here. (they dont have parts, accessories and others) so i have to order all my parts on ebay, auto anything, woodviews and others again i thank members of NitroforumZ for the suggestions and link on where to get those accessories :smileup: you guys ROCKS! thanks :smileup:
anyways im not done with my nitro :chuckle: i wish i can have Big brakes to suit my drilled rotors and a really REALLY good shocks :i_rolleyes: roads here in the philippines are so MUCH BUMPY :Racing: so erased my lowering spring mod LOL and i really want to have a MyGiG on my nitro
but up to now i cant find where to buy and still searching what kind of MyGiG for my ride :thk: LOL
​