http://i134.photobucket.com/albums/q96/TSilvestrini/mini-DSCF1603.jpg
Nitro of The Month Contest WINNER!
Canadianlimey is our October 2009 Winner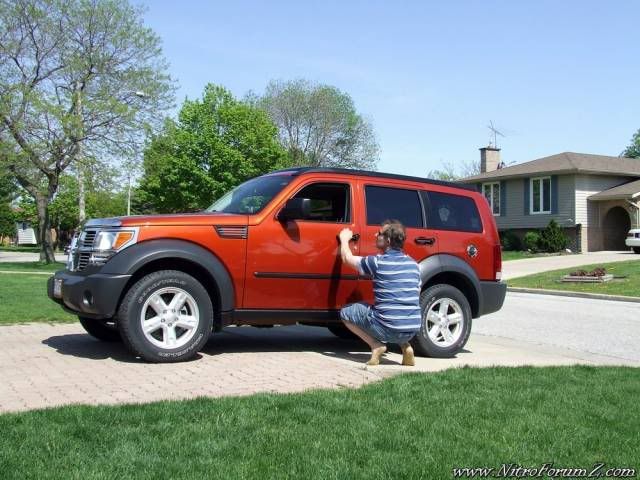 Well I find it hard to believe I've been on the forum over 2 and a half years now. Time really does fly. I can't even remember what I was looking for on the internet when I came across this site. For whatever reason it was something kept me coming back for more and after a while the Nitro forum became a part of daily life. Although I don't frequent the site as much as I used to I still try my best to hang out here and say hi to the newbies.
So as some of you know from my how to's etc, I have been known in the past to randomly strip down parts of my nitro just for the heck of it. I haven't done that much recently either and many projects that I have been meaning to pursue have also not materialized,…yet. My secular job has been taking up way too much of my time recently hence the lack of involvement here and the stalled projects at home.
I still like my Nitro although the initial novelty has worn off now. It's almost three years old now and I will be looking for a new ride in about 12 months time. I'm pretty sure it won't be another Nitro, or even Dodge, so there's a good chance all my goodies will be up for sale then. I had a test drive in the new Camaro today and was quite impressed with it. I haven't owned a GM vehicle since my Vauxhall days back in England. Time will tell as to what I choose.
I'd like to thank some of the many great members here who have made the past few years so memorable…..
NitroTech for his superlative knowledge and insurmountable help with the many problems and issues we've had the Nitro. His TSB information is second to none. Thanks Larry.
Waldorf for being my first Nitro buddy from our first meet back in August 2007 and for the many interesting conversations we've had over coffee since then. Thanks John.
Dk1677 for being such a huge help with the forum and for being a super nice guy as well. This forum would not be the same place without you. Thanks Dave.
Meangirl and Bluejet for also helping to run the forum and keep it from getting out of hand at times. Even though the phone calls and emails aren't as regular as they used to be our friendship still stands strong….
Thanks Tammy and Stacy.
And finally…
My scouse buddy Nitrover who I
will
meet up with one day over a nice pint (or pints) of beer. Your humor and enthusiasm for the Nitro and the forum is there for all to see. Keep up the good work Billy.
I know there are so many more I could mention but I'm sure, not for the first time, I've rambled on way too long.
​
Thanks again everyone…..Graham.​